Update 1.2.0
Posted On May 26, 2021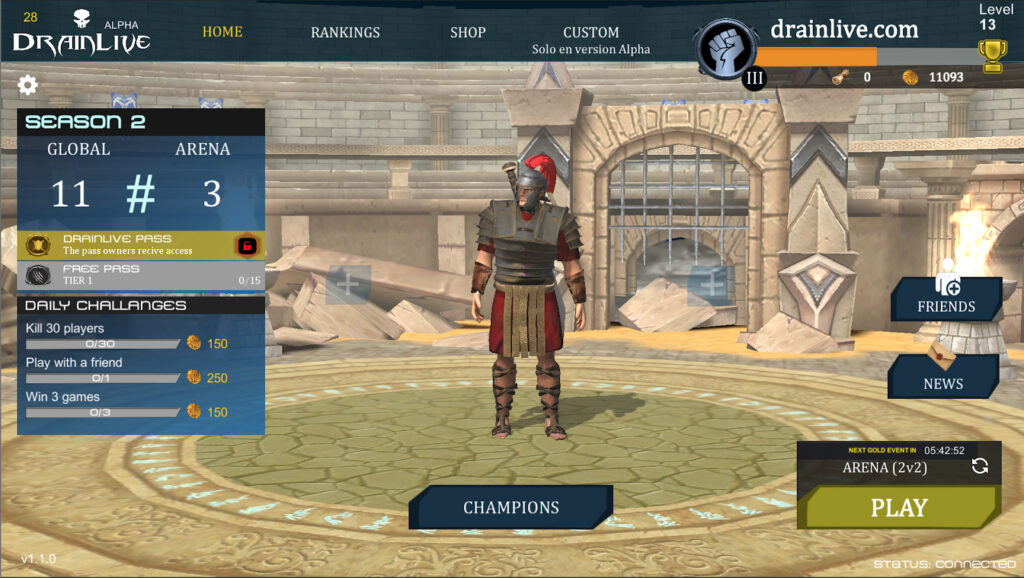 News:
New Arena available: Colosseum Ruins
New Temporary Event: Arena Tournaments
New Daily Missions and Drainlive Pass System
Implemented Tutorial at game startup, in the Main Menu
Added RUSSIAN language (90%)
Enabled (Best Region) for the server, so players connect to the nearest server to improve their connection speed to the game.
Re-Implemented the Friends system, adding a search engine and sending requests to them and must be accepted by them before being seen as friends.
Re-implemented camera movements for arena battles.
General Improvement:
Improved matchmaking in Arena and Hero/Villain game modes.
Rearrangement and improvement of some user interfaces.
Modified the system of character skin changes
Added some missing English and Russian translations.
Modified some Scenario names in Custom Games
Improved the News section and now it can be collapsed.
Hero and Villain mode can now be created from custom games
Added an interface in villain mode that shows, survive or kill the villain depending on the team you are in.
You can no longer consume mana potions while using a preparation skill.
Reduced the Points to win from a Deathmatch to 15
Changed the tutorial map to the ruins of the coliseum.
When you are in Custom Teams between friends, you share their status information (WAITING/ BUSY/ READY/CHOOSING).
Leaderboards:
Changes in the rankings:
The General and Arena leaderboards were divided.
The Score in the arena not only increases but can also decrease when losing.
Implemented a monthly seasonal Ranking system, with rewards to the winners.
Temporarily eliminated rankings by rank such as: Gold, Diamond, Platinum, etc. – Only General, Arena, Top 10 and Friends are kept.
Corrections:
Added system in case of fall in Scarlet Monastery that returns the player to the fight.
Fixed Marcella's poison daggers not working correctly in some modes.
Fixed the bug that indicated the number of positions different from the real ones in the arena.
Modified the waiting time for arena search, based on the number of players connected.
Fixed Mystic's blocking, because this champion could be used without having unlocked it yet.
Corrections in some SKINS
Fixed the bug that allowed Ordwic to attack without cooldown time when changing weapons.
Fix Warcry (Warcry) sometimes did not mute.
Fix bugs in Rankings scroll.
Fix bug in Aghia's skin that froze after death.
Now no spells can be used until the Arena begins.
Balance sheet changes:

Mystic:
Decreased Nova's cooldown to 5s.
Reduced cooldown of Ice Shield to 12s.
Reduced cooldown of Ice Veins to 30s
Increased the damage of his Weapon 1 to 190
Increased Ice Spear damage to 70s
Marcela:
Reduced Marcela's life to 850.
Reduced the damage of the red dagger to 120
Increased the damage of the green dagger to 45
Increased the Cooldown of the Kidney Shot to 4s
Increased the Cooldown of BackStep to 5s.