Update to version 1.1.0 (Abril 2021)
Posted On May 14, 2021
A big update for Drainlive has arrived, and this one comes with many new features, fixes, changes and improvements to the game in general. Below is the list of relevant changes included in this update.

TROPHY REWARDS System
Initially you will have 2 Champions (Ordwic and Balia), the rest will be unlocked as you progress through the Path of Glory, earning trophies to advance in the battlefields.
At the beginning you will be able to play Death Matches (All vs All), the other modes will be unlocked as you advance along the path of Glory.
In general you will get 60 rewards. In these you can get or unlock Heroes, new Game Modes, Gold or backpacks with various rewards.
Friends and Teams
FRIENDS system
Now you can have your friends in a list and see their status (online / offline / playing).
Teams between FRIENDS
!NO LONGER HAVE TO GO TO THE ARENAS WITH RANDOM PLAYERS!
Although it is still an option to go to battle alone, you can now invite your friends and create a custom group of up to 3 companions to go to the arena. This also applies to other team game modes.
Once you invite a partner, only the Leader can invite or start the game.
If you are in a 2v2 team, you can only score in Deathmatch and 2v2 Arena.
Like the previous point, if you are in a team of 3 players, you can score Deathmatches and Arena 3v3.
UPGRADE your CHAMPIONS
Champions will earn their own independent experience in each match.
They all start at Level 1, and can be upgraded to Level 10.
To improve a Level Champion it is necessary to obtain the necessary experience, in addition to an amount of gold according to each level.
As a champion improves, they will have greater stamina and deal more damage to most of their attacks.
NEW Game Mode
New game modes are preparing for their launch, in this update we will have:
HERO / VILLAIN.
War torments many warriors, but when one of them loses his sanity, the rest of the champions will have to stop them and will become Heroes if they succeed. An enraged Champion is hard to beat.
It will be a 6 player game, where 5 will be a team and 1 will be the Villain, but this enemy will be much more powerful. Therefore, a time of 2 minutes will determine in each battle if the Heroes are capable of defeating it, or it is the Villain who takes the victory.
NEW CHAMPION – MYSTIC: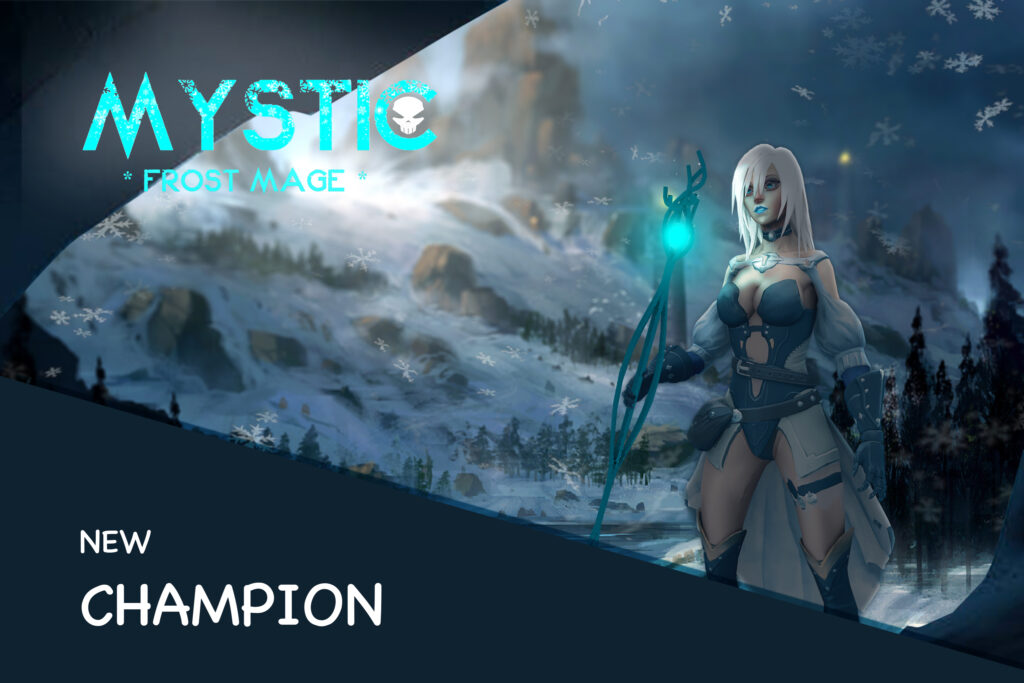 Trained by the largest cult of wizards in the mountains of Ashendore, Mystic has descended to dry land to investigate what is happening on DrainLive.

This Frost Mage has a high survivability. Damage is not its strength, but neither should it be neglected or ignored, as well positioned it can cause great damage.
OTHER IMPROVEMENTS
The game's interfaces and menus were redesigned by more than 80%.
Fixed multiple minor bugs.
Lastly: Players with accumulated playtime will keep their trophies, gold, and accumulated experience on the heroes Ordwic, Balia, and Marcella.